We are excited to be partnered with Jenn Fillenworth from Grand Rapids, MI for this recipe! Jenn is a registered dietitian who puts a focus on making simple and flavorful dishes while also working to inform people that a healthy diet can include all foods. She runs a great blog called Jenny With the Good Eats, can be seen in televised media segments and works as a food liaison for GRNow.com. 
---
Okay, I have to admit…I'm team bean when it comes to chili. BUT hear me out. Beans compliment beef so well and help to bring extra texture to the dish. Not to mention they have loads of fiber to help keep you fuller longer. Plus, my dried bean method has been tried and tried again for the perfect texture. So please, give me all of the beans and beef in my chili. This bowl of chili is incredibly flavorful and nice and hardy for those cold fall and winter days. It's an easy crockpot meal that's relatively hands off! You have to love recipes like that for busy nights.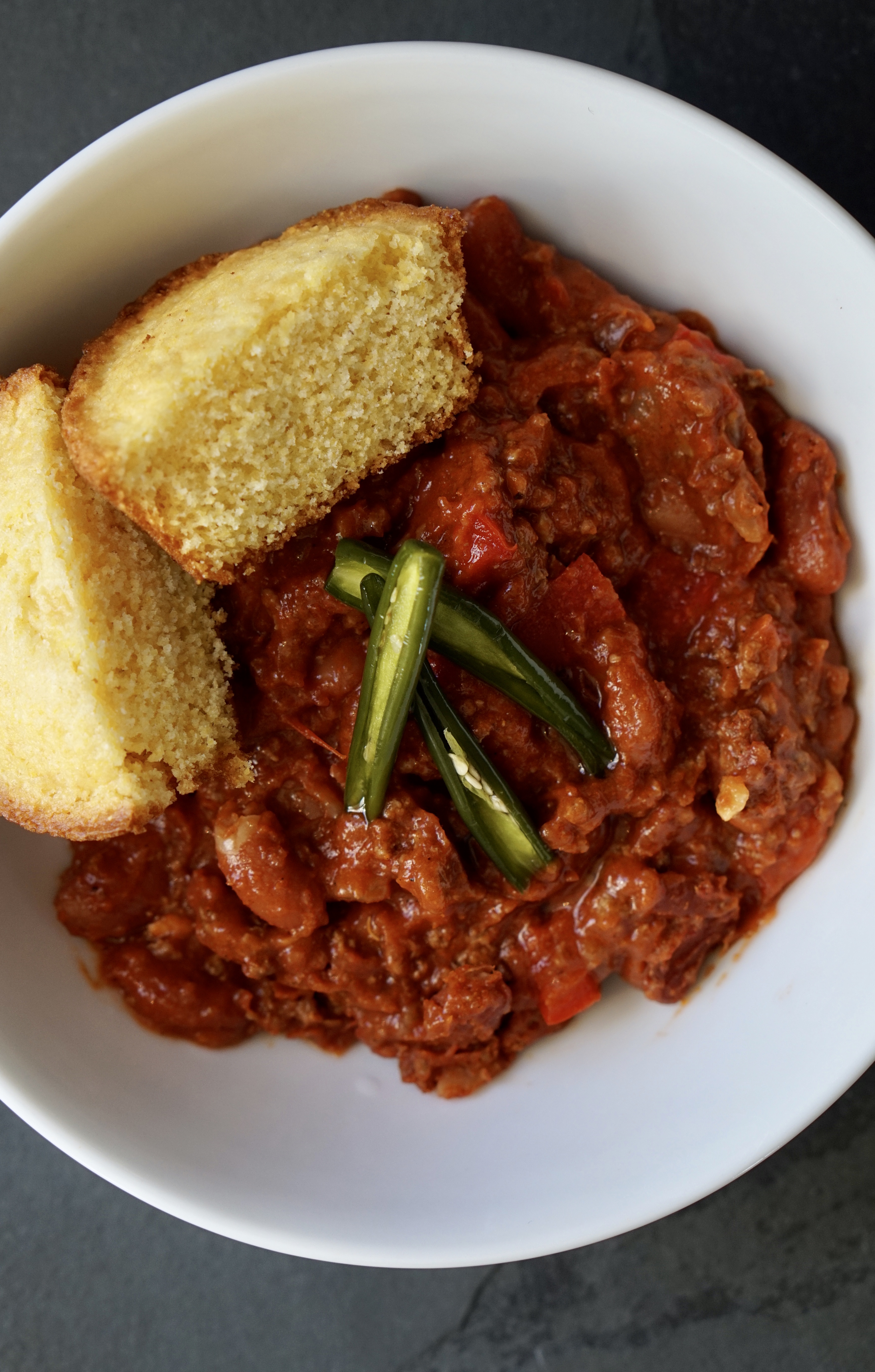 Ingredients:
1 tablespoon canola oil
1 large sweet onion
2lbs Schaendorf ground beef
4 cloves garlic, minced
1 cup dry kidney beans, boiled for 10 minutes then soak for one hour
28 ounces crushed tomatoes
¼ cup tomato paste
1 roasted red pepper, medium dice
2 tablespoons of chipotle chili powder
1 tablespoon chili powder
1 teaspoon cumin
1 teaspoon paprika
1 teaspoon salt
1 teaspoon pepper
Suggested Toppings:
Pickled serrano or jalapeno peppers
Sour Cream or Greek Yogurt
Cheddar Cheese
Cornbread
Preparation (Servings: 6-8):
1) First, boil your dry kidney beans for 10 minutes then cover and turn off the heat. Allow the beans to soak for one hour before transferring to the crockpot.
2) Next, in a cast iron skillet or Dutch oven, heat over medium-high heat allowing the pan to get hot before adding your oil. Once the pan is hot, add canola oil. Once oil is hot, add onion and begin to brown it, stirring frequently so the onion does not burn. Next, add the ground beef to the pan. Let the ground beef sit in the hot pan for a minute without stirring, we want to form a nice brown crust on the meat. As the meat browns, begin to break up and cook until all the meat has browned through, approximately 8 minutes.
3) Next, combine ALL ingredients in your crockpot (beans, beef and onion mix, tomatoes, tomato paste, red pepper, all spices and seasonings). Cook for either 3-4 hours on high or 6-7 hours on low. I prefer low heat because it gives the flavors more time to "mingle" with one another.
4) Serve with recommended optional toppings and enjoy.