We are excited to be partnered with Jenn Fillenworth from Grand Rapids, MI for this recipe! Jenn is a registered dietitian who puts a focus on making simple and flavorful dishes while also working to inform people that a healthy diet can include all foods. She runs a great blog called Jenny With the Good Eats, can be seen in televised media segments and works as a food liaison for GRNow.com. 
---
There's nothing quite like camping during the summer in the beautiful state of Michigan. Camping is a blast but there's also plenty of planning to do before the trip even begins. Everything from bringing the right equipment to packing the right clothing to planning what food to bring. Most of the time food on the campsite involves prepackaged hotdogs or burger patties. Not this time. These foil packets are bursting with local Michigan ingredients and delicious Schaendorf beef. These packets will please even the pickiest eaters. You can even pre-make the foil packets and keep them in the cooler until you're ready to grill them up.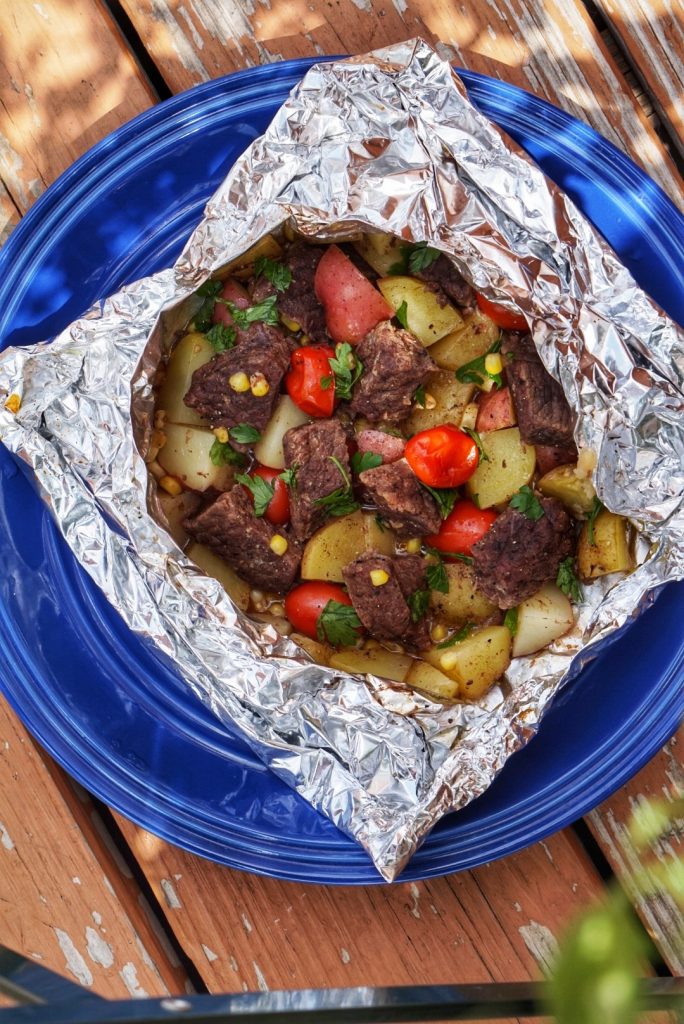 Ingredients:
2 tablespoons vegetable oil
4 Schaendorf Sizzler Steaks, cut into 1-inch pieces
8 redskin potatoes, cut into ½" pieces
8 Yukon gold potatoes, cut into ½" pieces
2 ears of sweet corn, kernels sliced off the cobb
20-25 cherry tomatoes
8 cloves of garlic, roughly chopped
2 tablespoons unsalted butter, cut into small pieces
kosher salt and pepper to taste
¼ cup parsley, roughly torn
Preparation (Servings: 4 Foil Packs):
1) Preheat grill or have campfire started with cooking grate over flame.
2) Cut 4, 16-inch long pieces of heavy duty aluminum foil. Fold piece in half to create a "book". Brush inside of aluminum foil with vegetable oil. On one side of the aluminum foil, arrange your sliced steak, potatoes, corn, tomatoes, garlic, butter, and season with salt and pepper to desired amount. Fold the other half of the aluminum foil over the steak and vegetables. Seal the packet by rolling the open ends up.
3) Cook the packets for 6-8 minutes on each side for a total of 12-16 minutes. Check desired doneness by opening a packet and checking the potatoes (should easily be pierced with a fork) and checking the doneness of the steak.
4) Carefully open the packets (the steam will be very hot!) and top with parsley. Enjoy!
Note: Make sure to use heavy duty aluminum foil for this recipe. Regular will tear too easily and we want to make sure those packets transport well and hold up to the campfire heat.