We are excited to be partnered with Jenn Fillenworth from Grand Rapids, MI for this recipe! Jenn is a registered dietitian who puts a focus on making simple and flavorful dishes while also working to inform people that a healthy diet can include all foods. She runs a great blog called Jenny With the Good Eats, can be seen in televised media segments and works as a food liaison for GRNow.com. 
---
The patty melt might just be one of the greatest comfort foods. The crispy bread, melty cheese, and juicy hamburger come together in perfect harmony. Some patty melts will feature caramelized onions, which I think is a must. It brings a little sweetness to the party that elevates the flavors even more. But there's one more thing we could add…mushrooms. Mushrooms deliver that umami flavor profile that you hear about all the time on cooking shows. Taste this patty melt for yourself, you'll never have another patty melt without mushrooms!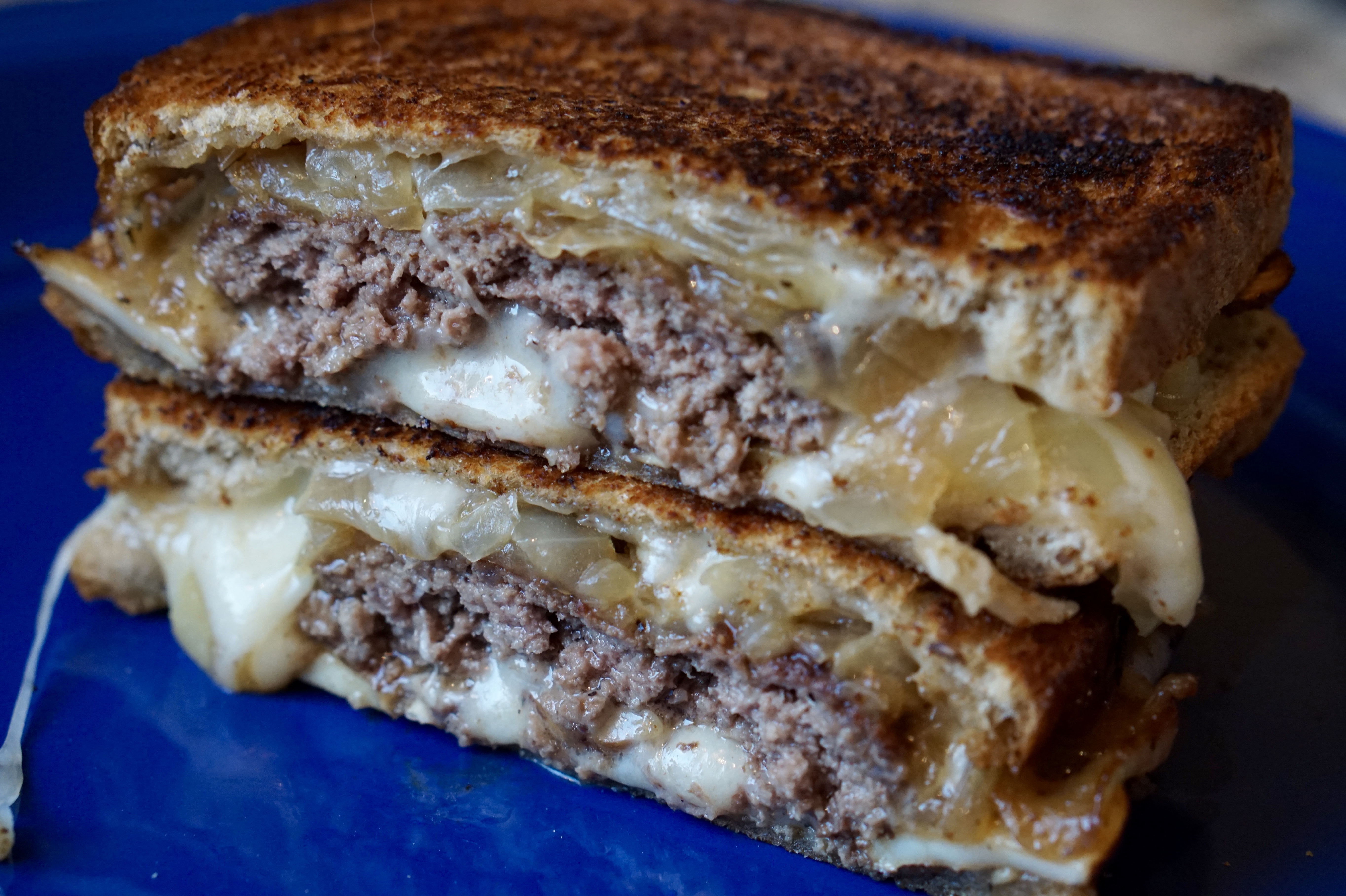 Ingredients:
1 pound Schaendorf ground beef
Salt and pepper, to taste
2 tablespoons olive oil, divided
1 large yellow onion, thinly sliced
Tap water, as needed
8 ounces of cremini mushrooms, thinly sliced
8 slices of Swiss cheese
8 slices of rye bread
Preparation (Servings: 4):
1) Gather all equipment and ingredients needed for recipe.
2) Heat a medium sauté pan over medium-high heat, add 1 tablespoon of olive oil. Once oil is hot, add sliced onions to pan. Occasionally stir your onions, making sure not to burn them (adjust your heat as needed). Onions will slowly brown and become sweet to the taste. If your onions appear dry, add 1 tablespoon of water at a time to the pan as needed. Onions will be fully caramelized in 20-25 minutes.
3) Remove onions from pan and set aside. In the same pan, cook sliced mushrooms over medium heat until they release moisture, about 4-5 minutes. Season with salt and pepper as desired.
4) While your onions are caramelizing, heat a cast iron skillet over medium-high heat. Once pan is hot, add 1 tablespoons of olive oil. Form 4, 4-ounce hamburger patties to match the shape of your rye bread. Make them slightly bigger than the slice of bread as they will shrink during cooking. Season both sides of the hamburger patties with salt and pepper and cook 2-3 minutes per side. Remove hamburgers from pan.
5) Now to build the sandwich. Place 1 slice of Swiss cheese on the bottom of your rye bread, then place a layer of mushrooms followed by the hamburger patty. Then top with caramelized onion and another slice of Swiss cheese. Next, place sandwiches in the cast iron pan and toast each side of the sandwich until the bread is crisp and brown and the cheese is melted.
6) Serve immediately.